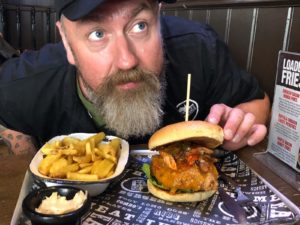 For years, we've had the pleasure of working closely with local solicitors Peter Lynn and Partners. We wanted to show our gratitude to them, but how? But then it hit us – why don't we do what we do best? We've decided to dedicate a burger to Chris Tymanowski, a partner we work with at the firm.
So, giving him the reins, he's only gone and come up with a burger that's perfect for anyone who loves spice: the CHRIS TYMANOWSKI – PHOENIX burger. It's got heat, a lot of chicken and plenty of flavour – but read on to find out why it's so special and drool-worthy!
We always want to introduce amazing flavours and try new things. You've seen our menu – the donut burger is definitely off the wall, but so delicious. We aren't afraid to try new flavour combinations, so when Chris told us his idea, we had no choice but to make it.
Inside the bun you can find our Kansas chicken breast, fried in our own herb and spices. We've shredded our signature hot wings on top and smothered them with hot and spicy Mexicana cheese. To give it that kick, we've sprinkled it with jalapenos and squirted some hot sauce on the side – dip if you dare!
Of course, don't forget about the crisp lettuce, slice of tomato, pickles and side of skin-on fries. It wouldn't be a Smoke Haus burger without it. You're going to want our signature IPA to help you get through the heat but, boy, is it worth it.
This is the perfect burger for all you chicken lovers out there who love a bit of heat! We'll be running it all throughout June, so you have plenty of time to get your mouth around it. At only £13.95 for all that meat, cheese and toppings, you'd be a fool not to.