Coming back from Easter has its ups and downs. You get to see your friends again and gossip about what you did during the holidays. However, it also means getting marked for your assignments, which everyone knows can be rather stressful (to say the least). Nothing better to cheer you up than a sugary explosive dessert. Just picture it, Oreo ice cream with chocolate sauce in every nook and cranny, refreshing cold milk and the final touch: Oreo bits crowned on top. Everyone loves to eat their way through a packet of Oreos, but sometimes it is nicer to mix it with some delicious ice cream.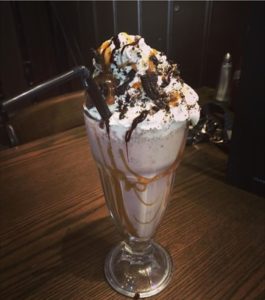 I swear, there is no better way to send good vibes to summon good grades than having a nice cold milkshake. When I was in my second year of uni, freaking out about assignments, deadlines and what would happen in the future was all I did. But then my grandmother gave me the best piece of advice I could get. She said: "Don't worry, I'm sure you'll do great. If you don't, mehhh life goes on." Then she made me a delicious glass of blended strawberries, milk and lots and lots of sugar. Even though my grandma's milkshake wasn't as elaborate as the Oreosome served at The Smoke Haus, it was made with pure love.
Please don't stress you guys. You will probably get good grades and if you don't, remember it's not the end of the world and you can always come and grab an Oreo milkshake with us to feel better. At The Smoke Haus we value talent and effort, a grade doesn't define you as a person, so, shake it off!
You know what? No more talking, let's go get an Oreosome and put some good energy out in the world to lure those awesome grades.
Leave us a comment! We want to know how well you did.