Who isn't guilty of waking up on a Saturday morning with the worst headache, feeling nauseous and sweating like a pig. First thing, you grab your phone, call one of your friends to laugh about last night and complain how you both are dying from the worst hangover ever. Your stomach is awake too and wants food, but not any food, she wants something juicy, greasy and big that will feed the monster inside you. This was so me last week.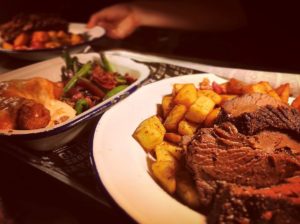 After I woke up from my stupor I thought, "What if I order some food?". The thought of waiting for my food to arrive was torturous. I grabbed a coat, long enough to cover my unicorn pajamas, and bolted out of ymy dorm room (at Liberty Living) to find some food. I walked aimlessly towards St. David's Mall and five minutes later I found myself crossing by Mary Anne Street. From the corner of my eye I spotted an amazing poster that read: Hangover Buster!! For only 12.95 at The Smoke Haus Cardiff. My stomach started to make noises you only hear in horror movies, so I ran into The Smoke Haus before the sounds started scaring little children on the street.
The meal was a perfect combination of Home Fries, Mac n' Cheese, Green Beans, Pit Gravy.  All of which came as a side to my choice of meat – pulled pork. Even though I promised myself earlier that I would no longer wake up hungover, in that moment I found myself thinking "I´m going to try the Brisket option next Sunday".
Thank god I found my hangover cure. The best part? You can arrive in your pjs, in your walk of shame clothes, it doesn't matter! The only pre-requisite is to come hungry.