Did you know that a healthy brain produces hundreds of neurotransmitters needed for regular maintenance of the brain and it needs proteins to do so.
Drained, exhausted and depleted, we know students are all too familiar with these words. Just when you think you're totally burned out from classes and group study sessions you realise you need to dig deep and somehow find energy for the upcoming assignment deadline. Ay Dios Mio!

Have no fear, The Smoke Haus is near. You can get your protein on with all you can eat wings Monday-Thursday. Yeah, at first, I was suspicious too and kept thinking there must be a catch here. There wasn't, you can actually eat yourself into a coma. Smoked to perfection Smoke Haus' three bone wings will give your brain a fighting chance in nailing those horrid assignments. They come with a free drink and with your student discounts it's a STEAL guys. You can have them plain, BBQ or spicy.  Here's a little advice from a wing eating pro, order them plain and have the lovely staff bring you all the sauces they have. That way each wing will taste different and should you fall in love with any particular sauce, you can order the next batch to be cooked in it. So now you know where to go and what to order when you need some brain food on a budget.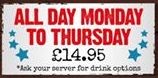 Bring your friends or drop by alone, it's cool either way. Trust me, once you try these bad boys, you're going to make The Smoke Haus' Unlimited Wings a weekly ritual. Come on by anytime during weekdays and make the most of this lovely offer. In the meantime, tell us what food you binge on during