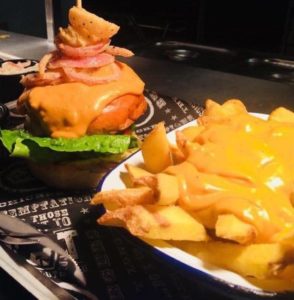 I admit, I'm that annoying, light weight friend who needs to stop for a snack on a bustling Friday night. This has always been the case as far as I can remember. While my friends are looking up the next bar to hop to, I'm thinking "cheesy fries". I can't be the only one who does that, right? Every Friday, without fail, my friends and I take to the streets of Cardiff. You can't imagine how many different places I've stopped at for cheesy fries. Some of them were ok and some were simply inedible. Then one wonderful Friday evening, I stumbled upon The Smoke Haus and, man, am I glad I went in.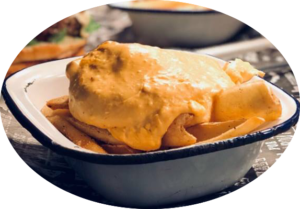 From a menu comprising of delicious sounding burgers, steaks and ribs I chose what I always go for when out about town on the weekends. I placed my order and sat by the bar counting seconds. Finally, they arrived. Packed in a little brown box, pretending to be some ordinary little fries. I unwrapped it like a Christmas present and it was love at first sight. I kid you not, it was like a movie scene where golden rays shine out of a box with a high pitched "aaahhh" sound in the background.
Fried golden crisp, covered in thick melted American cheese, these weren't your average cheesy fries. I was salivating even as I ate them. I had to resist the urge to shout "NO!" when a friend said, "can I try one?". I'm glad I gave each friend a taste because I'm no longer the annoying friend who has to stop for cheesy fries. Now, we ALL stop by at The Smoke Haus, every Friday night, for what we call the best damn cheesy fries in all of Cardiff.
Tell us where you go for your fix of cheesy fries!