Who can forget their first university romance? The first break up is always the hardest…so how do you deal with it? All I can say is when I'm going through a break up, I turn to food, and a lot of it at that!
So what do we all need after a bad break up? Comfort food! Now, we all know dealing with break ups are hard. The heartache that comes with it can only be made worse by university deadlines and exams looming.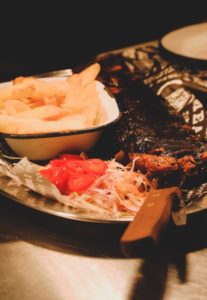 Well you might not be able to get your baby back, but at least you can dig in to some slow cooked smoked BBQ baby back ribs at the Smoke Haus. Served with a side of creamy slaw and some golden fired skin on fries, you'll forget why you were sad in the first place.
It's true when they say misery loves company – so find another friend that's also missing their baby (you're in uni, you're not going to be the only one!) and bring them along. To help you recover from a 'broken heart' the Smoke Haus offers 10% student discount on your meal, so there's no reason not to. If worst comes to worst, and you're not able to get your baby back, at least our ribs got yo' back. What more could you ask for?
Recently single? Tell us your break up story and your go to break up comfort food.