One of our Smoke Haus legends is leaving us to pursue her art career!
The amazing Jade has been with us since opening in Swansea in 2012 where she started as a waitress and her ambitious nature saw her moving to Birmingham in 2016 to combine working in our newly opened Birmingham restaurant in Brindleyplace as a supervisor & trainer whilst continuing her education at Birmingham School of Art. We have been to see her work this week and it is absolutely amazing! We couldn't be more proud to say that she is one of our own.
Her final piece of work before she finishes her master's degree is now on display at the school. Jade tells us that the piece reflects the lifestyles of military children, a topic that means an awful lot to her. The tongue in cheek subject matter of flat packing children reflects her own experiences of moving from military base to military base as a child herself. The faceless figures indicate that they are unknown to the system that disrupts them and that their emotions are hidden when it comes to moving. It is a very powerful and moving piece of work and Jade is very proud of her achievements (and rightly so!)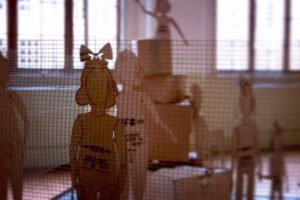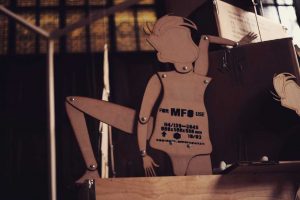 In her time with us at The Smoke Haus, Jade has been an absolute star and we wish her so much success in the future and know she will be fantastic at whatever she does. We would like to say a big thank you to Jade for all of her hard work for us over the years and want her to know that she is welcome back anytime!
Jayne Myall (Director)