Now, we know this is a tough question but which is your favourite Smoke Haus burger? The 'Dirty Sanchez' with it's delicious dripping swiss cheese & guacamole? The 'Hog Father' stuffed full with pulled pork? The 'New Orleans' with our signature slow cooked brisket & dirty sauce? Or maybe The 'Donut Burger' that sounds so wrong but tastes so right? You really are spoilt for choice under our roof! You lucky people!
Whichever your favourite is we have some great news! For National Burger Day 2017 on Thursday 24th August we are offering 10% off ALL of our amazing burgers all day & night long across all of our restaurants! We think they are pretty much the best burgers around so this is an offer not to be missed!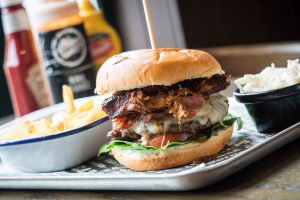 If you need something to wash down those big bold American flavours then we've got that covered too! Our bar is stocked full of some of the best beers, ciders, wines & spirits around to help! How about our very own Smoke Haus IPA brewed by the brilliant team over at Tenby Brewing Company? Or maybe a crisp pint of Blue Moon on draught? Don't worry, we never forget the orange slice! Or for the bourbon heads out there Wild Turkey or Makers Mark? In true Smoke Haus style, we definitely have something for all tastes! You can see a full run down of our fantastic drinks menu here. Yum!
See you on Thursday for our National Burger Day 2017 celebrations! Remember to tag us in your pictures on Facebook, Twitter & Instagram, we will share as many as we possibly can! We love to see them! It's a hard life working in the best BBQ restaurant around….
As always, we salute you all!