Here at The Smoke Haus, we do like the occasional alcoholic beverage! Sometimes though we enjoy more than just the one and we end up with the dreaded hangover. We've all been there, right? A banging headache and that all too familiar broken feeling plus a day spent lazing around in your pyjamas!
With this in mind, we decided to ask some of our staff what the best Haus hangover cures are! You can thank us for these later…
Tino – Supervisor (Birmingham) – A Chicken Caesar Salad & a Virgin Mojito
You know when food is bready & makes you feel sicky? Our Chicken Caesar salad is not that! The chicken is great because you're hungry and you need to line your stomach and the salad is refreshing just like the Virgin Mojito! Not too much, not too little and gets me feeling human again!

Jacob – Bar Tender (Birmingham) – 3 Pints of Blue Moon!
Where I'm from in Nottingham you get straight back on it, so 3 pints of Blue Moon! You can't be hungover if you're still drunk! (Editors note – Brilliant answer! We Salute You, Jacob!)
Nik – General Manager (Birmingham) – The Mixed Grill
You need to soak up the booze after a big night out on the town so obviously the Mixed Grill! Brisket, pulled pork, pastrami, a chilli dog, a full rack of ribs & fries will do just the job!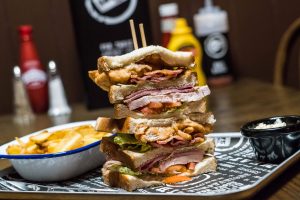 Sean Jones – General Manager (Swansea) – Brisket deli with jalapenos & a Choco Butter Nightmare
I have plenty of experience eating this food hungover!! Has to be the brisket deli with jalapenos, with a chocobutter nightmare to wash it down. I never finish it all and I'm not 100% that it makes me feel any better. Just a bit more guilty!!