Here at The Smoke Haus, we love summer but we also love our Birmingham home of Brindleyplace! It's home to some fantastic businesses, brilliant people and plenty of canals!
Here's our Haus list of how to spend a sunny summer Saturday in Brindleyplace!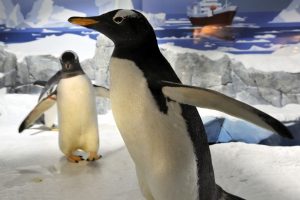 Discover Marine Life at The National Sea Life Centre, Birmingham
EVERYONE and we mean everyone has to go here at least once! The National Sea Life Centre Birmingham have over 60 displays of incredible freshwater & marine life including turtles, sharks and the incredibly popular penguin enclosure (including a new rare baby Gentoo penguin!) Awww!
https://www.visitsealife.com/birmingham/
Get Cultured at IKON Gallery
IKON is an internationally acclaimed art gallery situated just behind us (lucky devils that we are!). IKON's programme features artists from around the world with current exhibitions including work from Sidney Nolan, Sheela Gowda & John Stezaker. Be sure to pay them a visit!
Explore the canals on the Waterbus
There are more canals than Venice in Birmingham you know (as every Brummie ever will tell you within 5 minutes of meeting them!). What better way to explore than on the water itself! Ariel The Waterbus runs trips from Brindleyplace to The Mailbox via King Edwards Wharf all year round roughly every 30 minutes or so. What a treat!
Enjoy a night at the theatre at The Crescent
One of Birmingham's hidden gems, The Crescent Theatre has entertained theatre goers since 1932. Currently staging around 15 productions a year themselves and hosting numerous others The Crescent continues to go from strength to strength!
http://www.crescent-theatre.co.uk/
Stay At The Hilton Garden Inn
As hotels go, The Hilton Garden Inn is at the top of the game! Each room is equipped with 42 inch HD TV's, free wi-fi, walk in showers & air conditioning so staying here is a real luxury! Perfect for a nap after demolishing a mixed grill we reckon…
http://hiltongardeninn3.hilton.com
Last but not least….TASTE THE BIG AMERICAN FLAVOURS AT THE SMOKE HAUS!
No prizes for guessing we were going to feature on this list! 2017 has been a fantastic year for us so far in Brum as we see more & more happy Hausers getting stuck into our American inspired smoked meat! With a new menu set to launch in the next few weeks, we think as BBQ restaurants go in Birmingham we definitely top the tree…