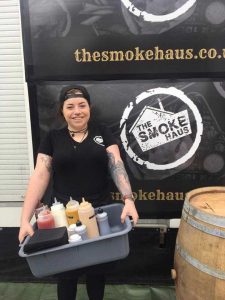 It's been a very emotional week this week at Smoke Haus HQ as we say goodbye to our long serving Front of House Supervisor & Chef in Swansea, Rachael. Rachael has literally been with us since forever so we wanted to share the love about one of our Smoke Haus stars!
Rachael has worked with us on Wind St since Day 1 and has been an incredible asset to our team in that time with no task too big or too small for her. She has also travelled across all our other sites in Cardiff, Birmingham & Bristol and has been a massive part of our success!
Whilst working with us Rachael has been studying hard and her hard work has paid off as she is now off to be a Digital Artist for Swansea firm, Alpha Tango Digital in Swansea Marina. We have no doubt she will be as amazing for them as she has been for us!
Rachael has worked incredibly hard for this opportunity and we are all absolutely delighted for her and wish her every success in the future. She will always have a job with us at The Smoke Haus and is welcome under our roof anytime!
We Salute You Rachael and good luck!