Saturday 3rd June 2017 saw the UEFA Champions League final roll into town in Cardiff and wow did we have a busy weekend!
Kicking off on Thursday night we had the first few waves of fantastically good natured Real Madrid & Juventus fans through our (newly refurbished!) doors in Cardiff.
Who knew our BBQ restaurant would be so popular amongst our Spanish & Italian friends? They kept on coming hungry for more throughout Friday afternoon and evening keeping our talented Cardiff chefs, front of house team and managers on their toes all day long. Turns out our smoked BBQ flavours are appreciated as much in Europe as they are on our home turf! Next up, the big day itself, Saturday & the UEFA Champions League Final!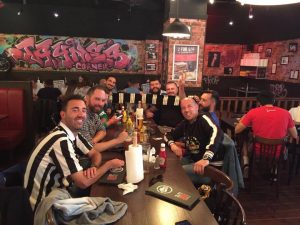 The atmosphere in Cardiff City Centre from as early as Saturday morning was absolutely incredible and one none of us here at The Smoke Haus will ever forget. We saw both sets of fans mixing in the streets playing football and singing songs which made for an amazing spectacle. The carnival atmosphere also spread from the streets to under our roof as hundreds of our hungry guests joined in the chants whilst waiting for their meals. We have NEVER seen this before in our 5 year existence! A special shout out to one group of Madrid fans who sang so loud you could probably here them from our Birmingham restaurant!
A big thank you from everyone at The Smoke Haus to all those who ate with us in Cardiff over the weekend of the Champions League Final and congratulations to Real Madrid on lifting the famous trophy for an incredible 12th time.
We Salute You!